Family-Owned and Dedicated to Excellence
Ace Relocation Systems is a leading U.S. moving, warehousing, and distribution company with coverage around the globe. For nearly 40 years, our family-owned business has provided unrivaled customer service to individuals, employee relocation programs, and commercial business clients. Our strength comes from our small-business heritage and customer-first philosophy combined with the services and technology that come from being the largest hauler for Atlas Van Lines.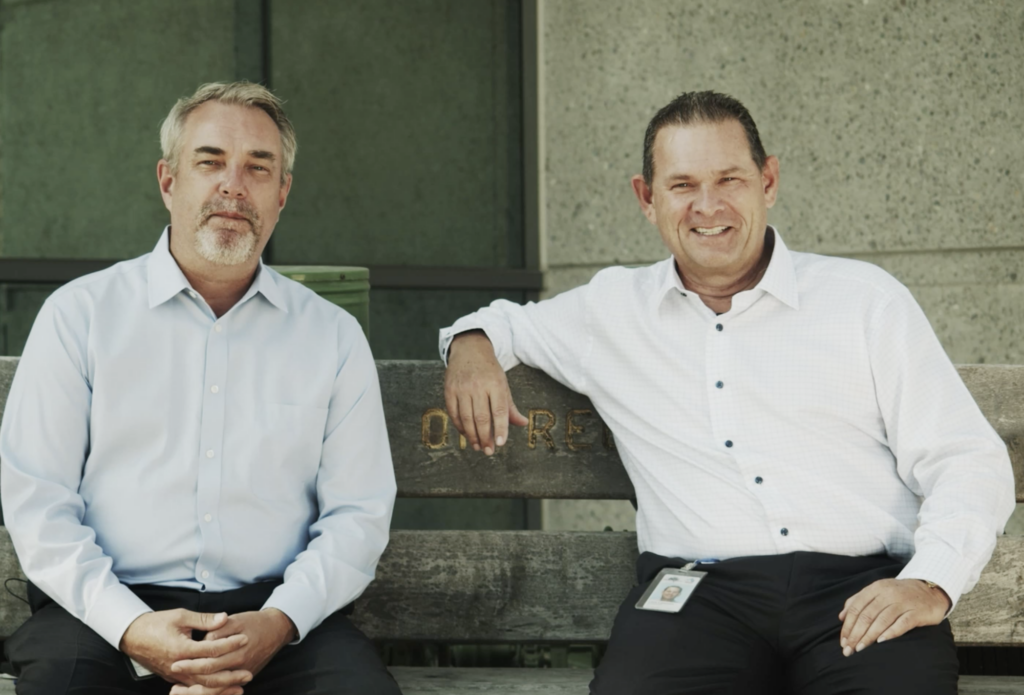 Left to Right: Dan Lammers & Larry Lammers
How long has your company been in the moving industry?
Reg Lammers founded Ace Relocation in 1985. Since then, we've opened nine other moving companies throughout the country, and have helped over 350,000 people move into their dream homes. Each year we complete 20,000 moves for local, government, military, office, and corporate relocations. Our dedication to moving has made us the third largest agent for Atlas Van Lines.
What is your affiliation with Atlas Van Lines?
Ace Relocation Systems, Inc. is an agent for Atlas Van Lines. Ace Relocation has ten offices which constitute ten of the 327 Atlas Agents. With those branches, we cover 16 metro markets; 10 of the top 20. We are the third-largest Atlas Agent and hold a seat on the board of directors.
Ace Relocation serves 18 of the 25 largest metro areas in the country. Our headquarters is in San Diego. We have offices near Seattle, Los Angeles, San Diego, the Bay Area, Phoenix, Austin, San Antonio, Chicago, Cleveland, Orlando, and Washington, D.C.
Can you provide references?
Our most important references are our customers. Read our customer reviews here. If you'd like references for our corporate moves, contact us today.
Which industry organizations are you affiliated with or a member of? Do you have any industry-specific certifications?
We are a Certified ProMover® with the American Moving & Storage Association (AMSA). Other national organizations include ERC, SHRM, and IAM. We belong to most regional relocation organizations such as BAMM, SCRC, PNWRC, and others, as well as local industry organizations like CMSA, FMSA, SWMA, and others.
What licensing and insurance do you have and can you provide documentation?
Ace Relocation is fully licensed with the US Department of Transportation and the Federal Motor Coach Safety Administration (license #026757F).
Are you registered with the Federal Motors Carriers Safety Administration (FMCSA) and any other certifying agencies?
Yes, Ace Relocation is registered with the FMCSA, the US DOT, the California Public Utility Commission, the Texas Department of Motor Vehicles, the Washington State Utilities Commission, Illinois Commerce Commission, and the Florida Department of Agriculture and Consumer Services, Bureau of Compliance.
What new technology have you implemented in the past year?
iPad inventory shipment tracking and estimating, a mobile application for surveys, enhanced building security systems, and protocols, and utilization of the high-performance warehouse management system, WISE.
What awards has Ace Relocation won in the past 5 years?
  Cartus Commitment to Excellence Award: 2006 – 2017
     

Plus Relocation Service Excellence Award: 2007 – 2017

     

We've also received the following awards from Atlas Van Lines:

     

Atlas Milt Hill Quality Award: 1999 -2017

     

Hauling Excellence Award: 1999 -2017

      World-Class Commitment: 1999 – 2021

What is the size of each of your storage warehouses?
San Diego, CA

45,000

Long Beach, CA

30,000

San Jose, CA 

45,000

Kent, WA

75,000

Chicago, IL

45,000

Cleveland, OH

130,000

Upper Marlboro, MD

88,000

Orlando, FL

30,000

San Marcos, TX

48,000

Phoenix, AZ 28,000

Do you employ your own crews for packing?
Yes, we employ our own crews at all ten locations. All are trained and skilled in packing, loading, and unpacking. This ensures continuity and accountability throughout the move process.
How many moving trucks do you own and maintain?
160 long-haul/interstate tractors/trailers, plus approximately 400 pieces of equipment for local moves.
What type of storage do you offer?
Ace Relocation offers many types of storage including temporary and long-term. Our warehouses are equipped with alarms, sprinklers, security cameras, and climate control. Our warehouses are in compliance with the Department of Defense security regulations. We also have the warehouses inspected regularly by Atlas Van Lines to ensure the safety, security, and cleanliness of your belongings in our storage.
Are all members of your US-based crew required to wear company uniforms?
Yes, all crew members are required to wear company uniforms, including visible ID badges.
What other services does Ace Relocation offer?
Ace provides household moving services like corporate relocation and government and military relocation as well as commercial moving services like office moving, commercial warehousing, and records management. We are experienced in moving hospitals, labs, libraries, hotels, and more.
Why should I use a professional moving company?
Ace Relocation is a registered ProMover®, a designation from the American Moving & Storage Association (AMSA) that attests to ethical and responsible business conduct. Be wary of any mover that does not have this certification, as it was designed to protect the public from the predatory practices of "rogue movers."
Does Ace Relocation move long distance or locally?
Both. Whether you need to move locally within your own community, out of state, or out of the country, Ace Relocation can take you there.
How long does it take to move?
This depends on several factors, including distance, time of year, and the size of your move. Contact us to discuss your timing requirements.
Will Ace help me pack? Can I do the packing myself?
Ace Relocation can streamline your entire move by providing professional packing services. Our packers are trained in the best and most efficient practices to keep your goods safe. You can also do your own packing or ask us to only pack particular items for you.
Who provides packing materials?
Ace Relocation uses professional grade packing materials to prepare your items for transport. We also provide these materials to you at competitive prices if you prefer to do your own packing.
Will I have a customer service person to help me throughout the process?
Yes, there will be a customer service representative to help you from start to finish. There is a customer service team to back them up in case your representative is out or unavailable.
Ace Relocation has contracts with several pet moving specialists to take care of transporting your family members with fur, fins, and feathers.
What is the best way to move my house plants?
Use our handy house plant moving guide to keep your plants alive and well for up to three days of travel.
What should I do with my high-value items?
Your high-value and personal items are the safest traveling in your car with you. Here's a list of other items you should transport yourself when you move.
How will you protect my home and belongings?
We use extensive methods of home protection including floor protection, door jamb protection, wall protection, and banister protection along with packing methods and materials that are superior to many others including crating, dish packs, shrink wrapping, quilted move pads, foam and bubble wrap, and Kraft paper pads.
What types of moving estimates do you offer?
Ace offers "Binding," "Bottom-line Discount," or "Assured Price Protect" estimates depending on the situation and what is best for the customer. We will never hold your belongings hostage due to last-minute added charges. If you'd like to get started for your move, complete a moving quote today.
What payment methods does Ace accept?
If your move is reimbursed by your company, ask us about direct billing options. You may pay at origin or destination — just let us know what you prefer. We accept cash, check or credit card. We will also accept your certified check, traveler's check, or cashiers bank check.
How much does it cost to move with Ace?
The price for interstate (moves across state lines) and long-distance intrastate moves are calculated using the weight of your belongings and the distance they are traveling. Additional charges may apply for extra trucks, crews, special needs, or storage. Local moves (within about 50 miles) are calculated by the number of men and trucks and the number of hours it will take to complete the move. To get an idea of how much your move will cost, complete a free instant quote. We will provide a more precise estimate after walking through your home and assessing what will be packed and transported. If you're moving on a budget, here are some tips for making moving more affordable.
Do I need moving insurance to cover my move?
Ace Relocation is an award-winning moving company that handles your goods with the best of care. However, for complete peace of mind, take a look at our valuation options. They're not technically insurance, but they will provide coverage to repair or replace items that are lost, damaged, or destroyed while moving.
Am I protected against loss or damage while my belongings are in transit?
Minimal protection is automatically provided at 60 cents per pound, while Full Value Protection (FVP) ensures that your items will be repaired or replaced if they're lost or damaged.
What is your claims process?
If anything were to happen, we would work with you to ensure that you are fully compensated to the degree of your coverage and our liability. Ace has a very low packing claims liability ratio of 1.6% and cargo claims liability ratio of 2.36% (source: Atlas Van Lines World Class Commitment Performance Evaluation).
Ace Relocation is proud to receive the "2023 MSC Agent of the Year Service Excellence Award" for demonstrating exceptional performance and service to our customers, employees, community, and the moving and storage industry.