How to Avoid Moving Scams
How do you avoid moving scams?
Unfortunately moving scams are a national problem, but you can avoid them by knowing a few key things.
Moving scams are a nationwide problem that leave many people stranded without movers, or with movers who damage their belongings or hold their household goods hostage until they receive more money. When looking for a moving company it's important to do your research and look for a few key things to prevent yourself from becoming the target of a scam. Here are a few tips to help your move run smoothly and scam-free.
LICENSED & CERTIFIED MOVERS
First and foremost, verify the moving company is licensed. Look for their United States Department of Transportation (USDOT) and Federal Motor Carrier Safety Administration (FMCSA) license numbers. You can verify those numbers here. Professional movers should also be ProMover certified. The American Trucking Associations' (ATA) Moving & Storage Conference ProMover certification program is designed to fight imposters, known within the industry as "rogue operators," by giving the consumer an easy way to separate reputable, professional movers from con artists looking to make easy money at your expense.
» TIP: Confirm USDOT and FMCSA licenses and look for ProMover certification.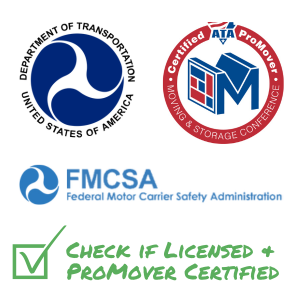 MOVER VAN LINE AFFLIATION
Many moving companies are affiliated with a large van line, such as Atlas Van Lines. Being part of a larger van line means the moving company must adhere to certain standards, they are reviewed frequently, and they have access to more resources. If something goes wrong and your moving company won't respond to you, you can reach out to their van line for support.
» TIP: Know if your moving company is affiliated with a larger van line.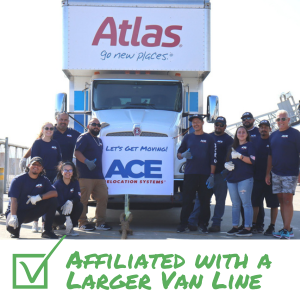 HOME SURVEYS & MOVING ESTIMATES
Some scam moving companies will provide you with a verbal estimate without ever seeing what you're moving. Insist on an in-home or one-to-one video call survey. If it's a video call survey, ask about the technology they use to identify and document your belongings. After the survey, you should be provided with a professional, written estimate that documents the scope of your move. Any mover that won't provide you with that is a mover you shouldn't use.
» TIP: Insist on in-home or 1:1 virtual survey with detailed estimate and scope of your move.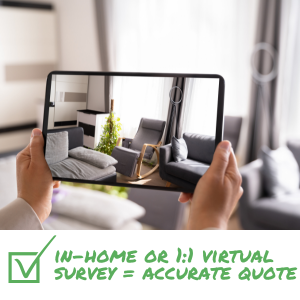 If it sounds too good to be true, it probably is. Keep that in mind if you get a crazy low moving quote. While it's tempting to choose based on price, many scam movers lure you in with a low estimate and then throw extra charges on you when the move starts, saying that your belongings weigh more than they thought, or there are tariffs and other extra charges that weren't included in the original estimate. Then they hold your goods hostage until you pay the additional charges.
» TIP: Always insist on a written estimate with detailed line-item charges included.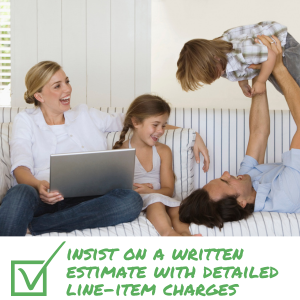 If a moving company asks for a hefty deposit up-front or only accepts cash, it's a clear signal that they might not be reputable. Large deposits are an easy way un-licensed or non-reputable moving companies can take your money and then never show-up to execute the work. Paying cash also provides you with no recourse and makes it harder to track down bad actors in a scamming situation.
» TIP: Choose a moving company with payment options, including credit cards, and no deposit requirement.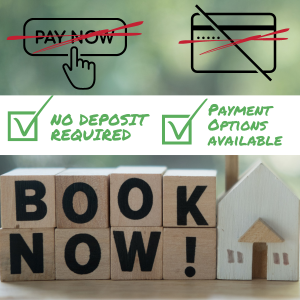 MOVING VALUATION, INSURANCE & CLAIMS
Beware of any moving company that offers you complete or "blanket" insurance coverage. Moving insurance is provided through insurance companies. Moving companies provide Valuation Coverage. Ask moving companies to explain their Valuation Coverage levels. Ensure they will inventory your belongings and provide you with a high-value inventory form for your pricier household goods. Be sure to ask about their claims process up front to make sure they have a clearly defined process and department.
» TIP: Know your Valuation Coverage options, beware of movers who say they offer complete insurance, and get details about the claims process.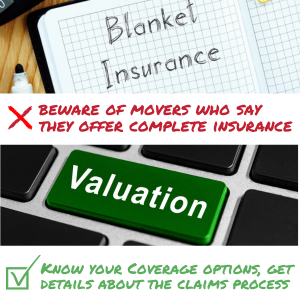 MOVER REVIEWS & REFERRALS
Look for independent reviews when researching a moving company. If you only find reviews on the company's own website and not on any other platforms such as Google, this may be a sign that the company is not a reliable one. Ask for referrals from your realtor. Realtors generally have relationships with reliable movers they trust to care for their clients.
» TIP: Look for reviews on independent platforms such as Google and ask your realtor for referrals.

Ace Relocation Systems – Austin, San Antonio, Houston, TX – Google Reviews
Ace Relocation Systems –  San Francisco Bay Area, CA – Google Reviews
Ace Relocation Systems – Chicago, IL – Google Reviews
Ace Relocation Systems – Cleveland, OH – Google Reviews
Ace Relocation Systems – Los Angeles, CA – Google Reviews
Ace Relocation Systems – Orlando, FL – Google Reviews
Ace Relocation Systems – Phoenix, AZ – Google Reviews
Ace Relocation Systems – San Diego, CA – Google Reviews
Ace Relocation Systems – Seattle, WA – Google Reviews
Ace Relocation Systems – Washington, DC – Google Reviews
Ready to get moving?
Trust our family to help you move yours.
Ace Relocation is proud to receive the "2023 MSC Agent of the Year Service Excellence Award" for demonstrating exceptional performance and service to our customers, employees, community, and the moving and storage industry.