How Are Your Belongings Protected During An Interstate Move?
Full Value Protection vs. Released Value Protection
KNOW THE DIFFERENCE IN MOVING COVERAGES FOR INTERSTATE MOVES.
WHY DO I NEED MOVING VALUATION OR MOVING COVERAGE?
It's important to have moving valuation, or coverage for your belongings when you move. Even when you use the very best packers and drivers, damage to your belongings can occur.
When you move between states, often a long-distance move, your belongings get handled, wrapped, packed, carried, loaded, and transported. The moving truck may travel over highways, city streets, and country roads. All of that can present traffic, careless drivers, inclement weather, or poor road conditions (think potholes!), which can contribute to potential damage to your household goods.  
So, what happens if your furniture or other belongings get damaged during an interstate move? Your mover is required, under Federal law, to offer you Full Value Protection and Released Value Protection. It's important to understand the differences between these.
WHAT'S THE DIFFERENCE BETWEEN FULL VALUE PROTECTION AND RELEASED VALUE PROTECTION?
The differences between Full Value and Release Value can be confusing. The most important thing to remember is that Release Value Protection is based on the weight of each specific item and your coverage is limited to each item's weight multiplied by $0.60. Full Value Protection is based on the weight of your entire shipment at a minimum of $6.00 per pound. This means under Full Value Protection, an item is covered at its full value up to the value of your entire shipment, not just the weight of that specific item.
FULL VALUE PROTECTION VS. RELEASED VALUE PROTECTION EXPLAINED.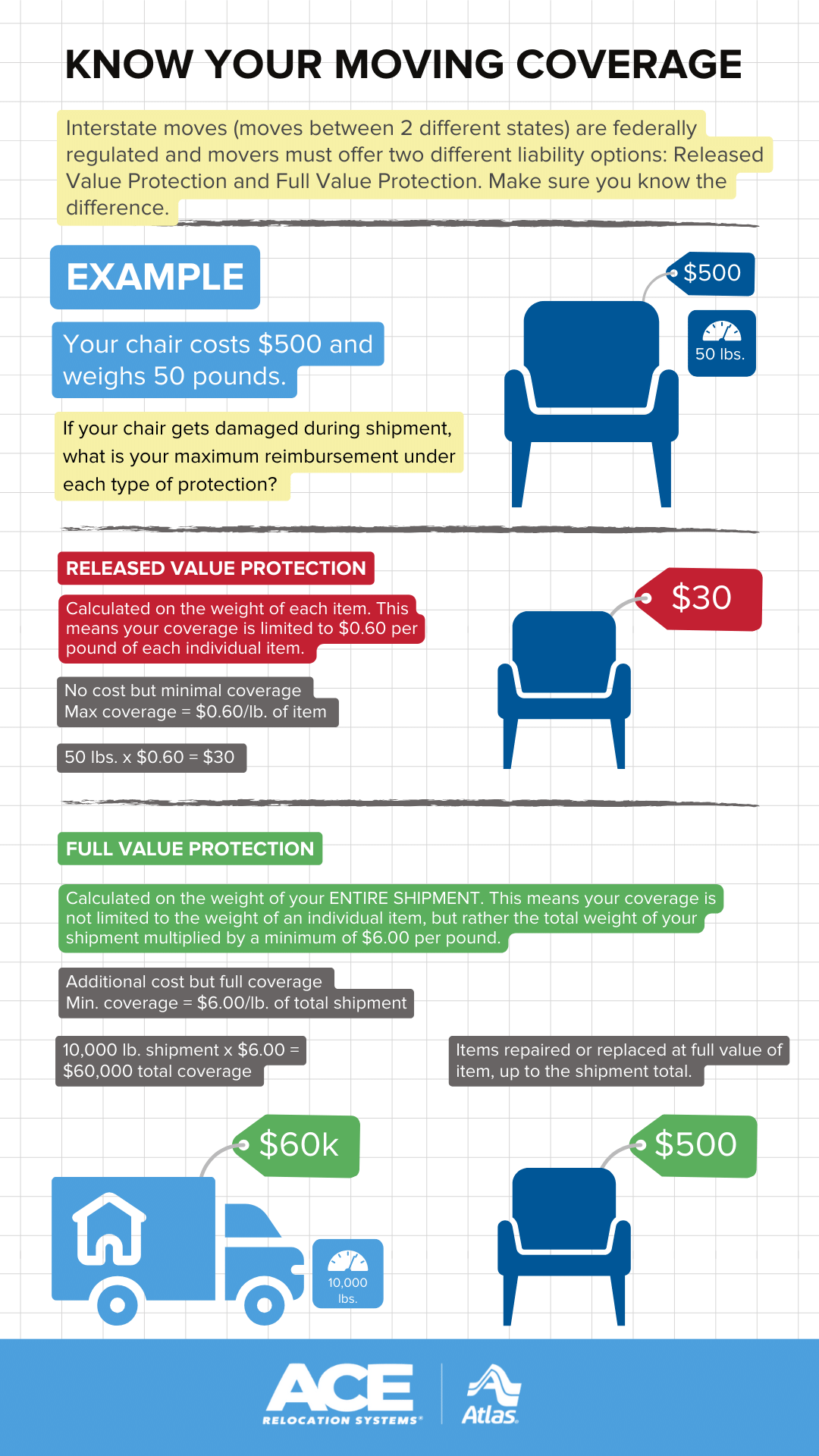 UNDERSTANDING RELEASED VALUE PROTECTION
Released Value Protection is offered by movers at no additional charge because the protection is minimal. Released Value Protection is based on the weight of each individual item, not the total weight of your shipment. Where Full Value Protection covers items at a minimum of $6.00 per pound of the total shipment, Released Value Protection covers items at only $0.60 per pound per item, meaning it pays out only on the weight of the individual item that is damaged. So your same shipment of 10,000 pounds has a maximum coverage of $6,000 under Released Value Protection, as opposed to $60,000 under Full Value Protection. But remember, the coverage is based on each item's weight. So if you have a chair that weighs 50 pounds, the maximum coverage for that chair is $30, no matter what the replacement value is.
If you choose to go with Released Value Protection, you are required to sign a specific statement on the bill of lading or contract agreeing to it. Just remember that you will only be compensated according to the weight of the item, not its actual value. If you do not select Released Value Protection, your shipment will automatically be transported at the Full Value Protection. 
UNDERSTANDING FULL VALUE PROTECTION
Full Value Protection provides for the replacement value of belongings that are lost or damaged during your move. Full Value Protection is the more comprehensive option, and therefore costs a bit more, but is considered the best option for protecting your belongings. Unless you specifically request to downgrade your coverage to Released Value, your mover will most likely automatically include Full Value Protection in your moving estimate. Ace Relocation strongly recommends Full Value Protection and includes it in your moving estimate unless you specifically request to downgrade to Released Value Protection.
With Full Value Protection, if any of your items are lost, destroyed, or damaged while moving, your mover will either:
Repair the item.
Replace with a similar item.
Pay for the cost of the repair or the current market replacement value.
Full Value Protection covers your belongings at minimum of $6.00 per pound of the total shipment weight. For example, if the total weight of all your belongings being transported on the moving truck is 10,000 pounds, then the minimum coverage of your shipment is $60,000. So, in the unlikely event of the loss of all your belongings, under Full Value Protection of a 10,000 pound shipment, you would be covered for $60,000. If you have high-value belongings, usually items valued at over $3,000, you should itemize these and declare them on a high value inventory form. When you do that your mover will include these declared high-value items above and beyond the standard $6.00 per pound.
MOVING COVERAGE - WHAT YOU NEED TO KNOW
In summary, if your belongings get damaged during an interstate move using licensed, professional movers, your items will be protected by Released Value Protection or Full Value Protection. Always look for a reputable, licensed mover and ask about their valuation coverage options. Get started with your free moving estimate now.
Ready to get moving?
Let our team care for your home move.
Ace Relocation is proud to receive the "2023 MSC Agent of the Year Service Excellence Award" for demonstrating exceptional performance and service to our customers, employees, community, and the moving and storage industry.